Ultimate Nuker
Ultimate Nuker
{{{caption2}}}

Status

In Game

Type

Solid

Requirements

None

Physics

Only after activation

Transparency

Partial

Luminance

No

Blast Resistance

LOL

Tool

Any

Renewable

No

Stackable

Yes (64)

Flammable

Yes

First Seen

Beta 1.5
The ultimate nuker is crafted from the 3 other ingots. einsteinium, neptunium , and uranium ingots. It's explosion is 100. Here is a picture comparing the bombs from TNT, and each other. This is a custom modeled block.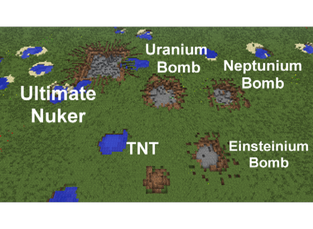 Obtaining
Crafting
| Name | Ingredients | Crafting recipe |
| --- | --- | --- |
| Ultimate Nuker | | |
Usage
It's a bomb, so it's used to blow things up. This is the highest tier of the bombs (Not including TNT). As of beta 1.9 and up, you have to use a redstone signal to set it off, since it is made of metal.
Achievements
| Icon | Achievement | In-game description | Prerequisites | Other | Version Added |
| --- | --- | --- | --- | --- | --- |
| | Mega-Bomb | Craft an ultimate nuker | Super Charged | | 15w30a/Beta 2.0 |
History
Beta
1.5
Added ultimate nuker.
1.6
Added color to the name.
1.9.1
Made it a custom modeled block.
Added a tool tip to show the tier level.
Official Release
2.0
15w18a
Fixed nuker not going off when clicked with mod redstone torches.
15w22a
CrazyGuy15052 has a 1 in 150 chance in dropping this block upon death.
16w13a
Added where you can set the bombs off with a gelid redstone torch.
Bugs

Bug;
Beta 1.5 - 15w22a
:
When activated, it goes invisible.
Trivia
The color of the name for the block is gray.
This is the highest tier of the bombs, not including TNT.
If you notice, from uranium bomb to this one on the tool tip, it skips a star. This is because there was a nuke that was added, but was never really in the mod. Then MCE's pc crashed and he had to redo the mod, and it wasn't added in again. This is also why this block is called the ultimate nuker.
You need to use redstone to set it off, it makes sense because it's made of metal.